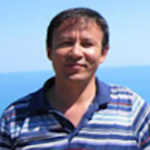 Murat Orhun (İstanbul Bilgi University) will give a guest lecture on Thursday January 24, 2019 at 10:15 in HF:326.
Machine Translation from Uzbek to Uyghur
Uzbek and Uyghur are Turkic languages. They will be compared with respect to alphabet, morphology, syntax and word categories. The vocabulary of the two languages shows some commonalities. Tools for vocabulary research and morphological analysis will be demonstrated.